The Council of Australasian University Directors of IT (CAUDIT) and Australian Computer Society (ACS) have renewed their long-standing partnership focused on enabling technology workers in the higher education sector.
The announcement was made at CAUDIT's Spring Members' Meeting in Brisbane last week. The agreement extends the existing agreement, signed in 2021, for a further two years.
As part of the agreement, CAUDIT aims to utilise ACS offerings to upskill the sector's IT workforce and create opportunities to increase diversity across the sector. ACS are focused on increasing professionalism and participation across all IT sectors. CAUDIT and ACS' combined initiatives will contribute towards a more diverse, highly skilled technology workforce of 1.2million people by 2027.
Greg Sawyer, CAUDIT CEO, looks forward to the opportunities the continued partnership will offer: "The MOU will continue to strengthen the long-standing collaboration between CAUDIT and ACS. We look forward to continuing to support member education and development, sharing resources and the opportunities to collaborate in securing the future of our industry."
ACS President, Dr. Nick Tate said he looked forward to an even closer relationship with the university sector through CAUDIT: "The MOU will allow CAUDIT members to gain access to professional development, events and networking opportunities as well as ACS's range of thought leadership publications such as the recent ACS Digital Pulse, Blockchain Fundamentals report and the Guide to the IT Professions survey we launched last week."
ACS is a Member Organisation and the voice of Australia's technology sector, representing over 35,000 technology professionals across all industries and across the nation. ACS members work in industry, education, government, and the community delivering the digital services that drive the nation and provide the high-skilled jobs of today and tomorrow.
The MoU reflects CAUDIT and ACS' close alignment on the goals of increasing Australasia's digital skills, capacity, and diversity. The extended partnership will help technology professionals plan their careers, learn new skills, grow their networks, stay up to date with industry trends, and engage with industry leaders from both organisations.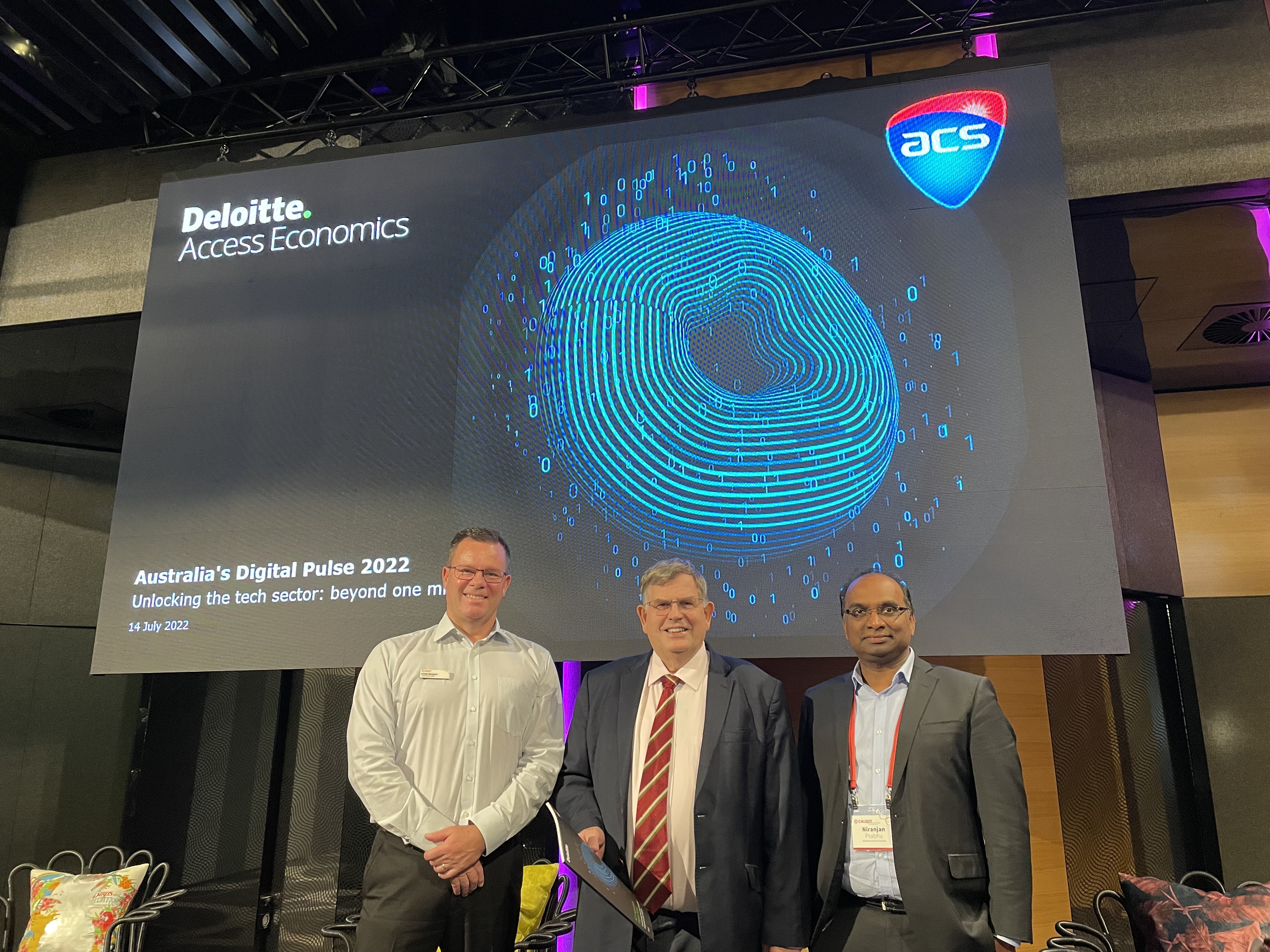 Left to right: CAUDIT CEO, Greg Sawyer, ACS President, Dr. Nick Tate and CAUDIT President Niranjan Prabhu at the 2022 CAUDIT Spring Members' Meeting in Brisbane.